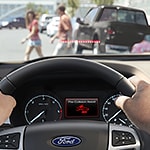 Looking for a truck that does more than haul and tow? Then you'll want to check out the popular Ford Ranger mid-size truck. This is a capable vehicle that does it all and looks good doing it, too. Take a look at some of the Ranger's top design features.
You can accessorize your Ranger to your taste. Available Ranger equipment includes carriers, racks, truck tents, protective bed liners, and more. The design possibilities are almost endless.
Everyone knows that the right wheels can really make a truck stand out. That's why the Ranger offers a number of top wheel options. Some of the most popular wheels include the 17-inch magnetic painted wheels from the Sport Appearance Package and the 18-inch black-painted aluminum wheels from the Black Appearance Package.
Get the Ford Ranger that suits your personality at Roswell Ford. We have a wide selection of the most popular Ranger models in the Roswell, NM area.